Account Based Marketing has picked up a lot of momentum among the B2B Marketers recently. Here is a small snippet from my experience on ABM orchestration to help you understand the value of an effective Account Based Marketing strategy using Intent data effectively.
There have been a lot of misconceptions about Intent data and how to effectively use them in your Marketing & sales funnels. A lot of companies whom I talk to are either failing to nurture the customers with the right Intent or don't use the technographic data effectively in their campaigns.
Only around 10% of the potential customers are likely to be your active buyers at any point in time. If the Marketing team knows who they are, your Sales and Marketing outreach will be much more effective and generate better-qualified leads.
The problem is, intent data is still an underrated tool, and most teams don't understand how to properly leverage it.
In this article let's see about Intent Data for Account Based Marketing. Where it works, how teams can set it up and use it effectively, how to optimize your campaigns, and much more.
Here is the complete Account Based Marketing strategy I used for a client who sells Salesforce Integration services in the US Market and helped nurture customers using Intent data.
This also helped book Sales Qualified meetings at the right time based on buying signals.
In the last year, these efforts have allowed us to:
Grow revenue by 122%
Book more than 4x the meetings per quarter
Increase average deal size by 125%
Build custom audience using Account Based Intelligence (Technographic data):
The first part of the exercise was to build a custom stream of accounts that we can use in the campaigns for the next 2-3 quarters. We started using Technographic data to target accounts and reach only specific companies that would require the services or software. e.g., Retail companies using Salesforce or Manufacturing companies having SAP S/4HANA Cloud.
We look at or filter accounts based on these technology stacks. I also got a customer recently who asked for companies that dropped Kronos from their technology stack. We can effectively filter the data of companies that dropped a particular technology in the last month.
In another scenario, we were able to filter and get data of accounts that added Salesforce recently in the last month for them to effectively include the Lead Magnets in their campaign.
The opt-ins for the lead magnet increased by 50% when we started making the appropriate content for them using this data. The technographic data is mapped across 20K+ technologies worldwide and this enables smarter targeting for prospects.
After we downloaded this data, we wanted to check the Intent of these companies. Intent data is available both company-wise and contact-wise. The next objective was to build the target account stream by prioritizing the accounts that want to hear from us. The accounts that show the highest Intent to buy are based on various buyer Intent signals and triggers. We then shortlisted them based on the Intent score from Highest to lowest.
Some Intent keywords we used for an IT company selling a Time tracker application for Salesforce were time attendance management, Leave management, workforce management, time tracker, and many more.
Intent-based Ads
We got the account list and now let's see how to effectively use these Intent-based contacts. We build the customer audiences using this data and that was our game-changer in paid advertising.
Here's how I set up my ads using the Intent stream:
We looked at the contact level Intent keywords first and then matched them with the keywords from the best performing ads on AdWords. We included the keywords that showed the topic of interest, problems that the contact is trying to solve. E.g., Time attendance, Application Integration, API, open banking, etc.,

Next, I set up my ideal customer profile that needs to click on my ads.

I also make sure, the lead magnet has a killer CTA and set up the object for only opt-ins and not sell anything.
Email Retargeting :
This is the next stage and the most ideal stage in Account Based Marketing Strategy to nurture the prospects to move them up the funnel and qualify them as sales-qualified leads.
With the google third-party pixel going away, most companies are looking for an alternative way to track the website traffic and have detailed analytics.
Here we drop a third-party pixel onto the website and the emails. This pixel now captures not only the customers who are visiting the website but also the prospects who are even opening the emails. Prospects who only opened the emails and did not visit the website were also captured by the pixel. The pixel tracks them even before they click a link and visit the website page.
Sales Emails based on intent:
Before this Account Based Marekting strategy, the email marketing efforts had a low response rate and open rate of only around 2-5%.
Their lead generation was primarily dependent on referrals, conferences, and roadshows. The cost per lead was significantly higher from these channels. The reply rates were also slower and dropped off eventually.
We realized the need to develop a cadence of touches that would convince them to reply. So, we decided to combine Intent, LinkedIn, and email. Our first touch was on LinkedIn to like and comment on their posts. We would then connect with them on LinkedIn (No pitching here). We will continue posting on our LinkedIn profile.
We then build a list of 100 contacts from the LinkedIn profile (All of them were engaged and connected on LinkedIn). These hundred were the right decision-makers and would already know us if we email them. We prepared a list of custom messages for each of these contacts and then drafted an email that could talk specifically about their technology stack and the problem. To build trust we also included a recent Account Based Marketing case study.
Create personalized journeys and experiences
The ability to create account-specific content experiences has been adopted widely on companies leveraging ABM to the fullest. This also improves the sales and marketing alignment significantly.
We have several AI tools available currently to map the content pieces from your existing content hub to the right accounts and decision-makers without putting too much workload on to the marketing ops or your web developer.
We sent micro personalized emails to the selected prospects from our segments and noticed the user journeys to be different for each segment and helped personalize content recommendations at scale. The entire journey gets smarter over time and hyper-personalized using Account-based marketing (ABM).
Content recommendations
We also got to see the trending content on our content hub. We also noticed how members of the same buying committee consumed content differently.
This helped us get 8x more downloads and 60% increased asset views. When we send an email or trigger an ad to get users to the content hub, we realized pitching the case study directly resulted in higher bounce rates versus sharing an article first and then understanding the user journey to recommend the next content. Also, for companies that require a long sales cycle, this helped effectively target the buying committee members on the sales and marketing differently and the CXO differently. e.g., the sales and marketing like to read more on the use cases and download the guides and eBooks whereas the CXO group would be consuming content more on whitepapers and webinars.
When we knew what content, the prospects started consuming, it helped us pitch the right service at the right time. E.g., if a particular prospect has visited the demo page more than 3 times and has a higher lead score or a prospect downloaded a case study spend more time on a webinar.
When we knew any of the above conditions were met, we send them a meeting request to chat. 
Campaign success:
Now, this Account Based Marekting strategy resulted in an open rate of 72% and the campaign had a 30% reply rate. Around 15 meetings happened that generated a total of $250000 in the pipeline.
Take away:
The key takeaway we learned from this Account Based Marketing strategy were
Use technographic and Intent data effectively to create a custom matching audience that can engage with you.

Email retargeting reduces CPM and helps reach the buying committee members at less costs

Segment your audience and create hyper-personalized multichannel journeys.

Create a content hub to proactively engage your accounts and the buying committee members.
---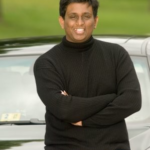 I help purpose driven brands grow online|Account Based Marketing|B2B Marketing|Marketing Automation.
All author posts