Understanding B2B Intent Data that Lead to Purchasing
B2B sales over the years have always been in pursuit of qualified leads, the ones that will guarantee conversions and revenue. The foreboding challenge for any B2B Marketer is to ensure that the sales team gets leads that can close faster and making sure that the sales pipeline is consistently filled with such leads.
What if your marketing team can notify the sales teams when an account is ready to be pitched for your product or service? What if you could know which accounts in your CRM are likely to purchase in less than a quarter and have your content team make content relevant to them?
Let's take a look at how all of this works and helps in Account based Marketing.
What is Intent Data?
Intent data is the user behavior that aggregates over time and this is captured as intent signals by data Companies. The Intent data provides a snapshot of the large digital footprint a user leaves behind as they consume content across the internet. The intent data usually has the following elements: Topic data-The topic on which a user is searching ; Context – How, When. Where people are looking or searching for
Understanding B2B buyer intent and its buildup over time are important because individuals spend large amounts of time and resources on various content consumptions. Furthermore, traditional studies often examine user behavior on a single online platform, while users may use several different platforms & services and the content consumption changes few weeks before deciding which product or service to purchase and where.
Thus, what is missing from the traditional approach is a cross-platform analysis of how user purchase intent varies over time.
To this end, it is important to contrast the population of purchasing users with the population of non-purchasing users, and then also identify how purchasers' online behavior changes over time from the norm as a result of impending purchases.
This has now been effectively done by various companies like Bombora, Everstring, lead space, etc.,
Spotting the buying signals
A Robust Intent monitoring algorithm will monitor relevant data from a massive range of sources including but not limited to information on the following
Specific Keywords
Company Names
Ad clicks
Company Job postings
Current activity
Locations
Pages
Relevant decision-makers demographics
Content downloads
A predictive scoring based on the above data will help you understand the urgency of the user or the intent towards the purchase of the product or service.
Some of the strong Intent signals that can be used to evaluate a B2B buyer are
Number of relevant articles on a topic they read
The number of times the user has read a particular topic and the timeline.
Based on how old were the articles, we can classify new articles as news and older articles as a vendor research content
What specific keywords are searched?
Any other intent they show like posting for a particular job or researching a competitor product.
Intent Data Is Not All Data-Using the Intent data effectively
The intent platform gathers all these information-packages them appropriately and delivers the data real-time back to the platform- This helps the platform to gain insights on valuable marketing and sales data like the spike in a certain set of activities, interactions of your decision-makers with your competitor's product or services, increased activity around a particular topic or service.
The marketing team can now capitalize on this surge data by
Planning a drip campaign on a selected set of accounts
Provide actionable insights to the sales team for one-to-one outreach campaigns
Retargeting your inactive contacts from the CRM- The accounts or contact that have responded to your previous campaigns but are idle for some time now.
In many ways, this type of marketing with intent data flips the traditional marketing funnel of the "Attract, wait, and blast" approach.
Personalize Your Marketing Campaigns
As you can see, intent signal data is a game-changer for triggering targeted campaigns to accounts that are showing the readiness to buy.
And that's not all of it. Here are a few of the other ways you can effectively use intent signals to help your ABM strategy.
The ABM dashboard can now be customized to show Accounts level and contacts level analytics
Website user experience can now be personalized for targeted accounts based on their IP addresses.
Contact level engagements and interactions rate help you to see, who is thinking about purchasing specific products and services.
Incorporate contacts scoring to identify the prospects ready for a 1-to-1 outreach.
Retarget inactive contacts from your CRM in past but evaluating currently
Engage and increase customer loyalty by delivering the right content to the right people at the right time.
Motivate your sales team for personalized upselling and cross-selling campaigns.
Intent data allows your marketing and sales teams to take a more personalized and customer-centric approach. This means your prospects are seeing the content that resonates with their interests and helps you plan the content marketing more strategically.
I'd love to hear your experience in the comments below.
---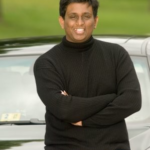 I help purpose driven brands grow online|Account Based Marketing|B2B Marketing|Marketing Automation.
All author posts