What is Demand Generation?
Are SDRs fully responsible for sales to convert?
We always blame the SDRs when a sale does not convert. This is because we assume all MQLs should convert. I believe it is the "MQL" mindset problem. Most companies are obsessed with MQLs.
CXOs are happy when they have X number of MQLs each week. It has been a volume game all this while. You need more MQLs you increase your volume of outreach.
The quality and the conversions from an MQL have gone down over these years. MQLs are rapidly disintegrating into contact data, within your ICP with no intent to buy. Any form fill, with or without an active Intent to buy is considered an MQL.
The buying journey is not linear. We should stop doing demand capture on engaged accounts (MQLs) too early. Instead, generate demand and nurture them.
The new age ABM process changes this. There is a Demand generation here.💯 The demand capture does all your Awareness, PR, and offering solutions to the prospect's problems. It is not a volume game anymore. It is more about building the pipeline, adding revenues, and converting the right prospects.💥 The best demand gen strategy will add value to the buyers, which helps your demand capture to convert leads faster.✍️ People fail to realize that if you do not have the right Demand Gen strategy, you will not succeed with your Demand capture campaigns. You may end up getting low-quality leads or leads that don't convert.
💥 🚀
I would like to quote the 80/20 rule here.
" You could spend most of the time trying to engage 80% of the casual users…or you could spend that time engaging with the 20% of those 'raving fans. How exactly can we make these raving fans buy from us?🔥
So, What is Demand Generation and Demand capture exactly?⚡️
Demand Generation is the first part of the marketing funnel that focuses on building awareness, positioning relevance, supporting validation, and much more., Demand generation is a marketing effort where you offer solutions to your prospect's problems and create awareness. In demand generation, the user's interest is used to bring attention to the company's products or services. Sometimes, people create a brand new category in their niche. In the demand generation phase, People are not aware of the existence of the solution to their problems. Communities like LinkedIn Groups can help you understand what others are doing and what you are not doing.
Here we have to move them to a buying cycle through an effective demand gen program. Nurturing people to move up your funnel.🔥 People click on ads from expensive budgets and don't buy from you cos you have not created the demand. There are not many attribution and metrics for demand creation. The only metric is Qualitative feedback from account research.
Demand Gen channels:⚡️🔥
Some of the Demand generation channels are not limited to but include the following.
1. Community building,
2. Groups, talk shows,
3. Keynote sessions,
4. Qand A's,
5. podcasts speaking,
6. podcast interviews,
7. Guest posts,
8. Public speaking,
9. Events,
10. Partnership webinars,
11. Research papers.
12. Podcasts,
13. Newsletters, webinars, guides, case studies,
14. Targeted ads for content distribution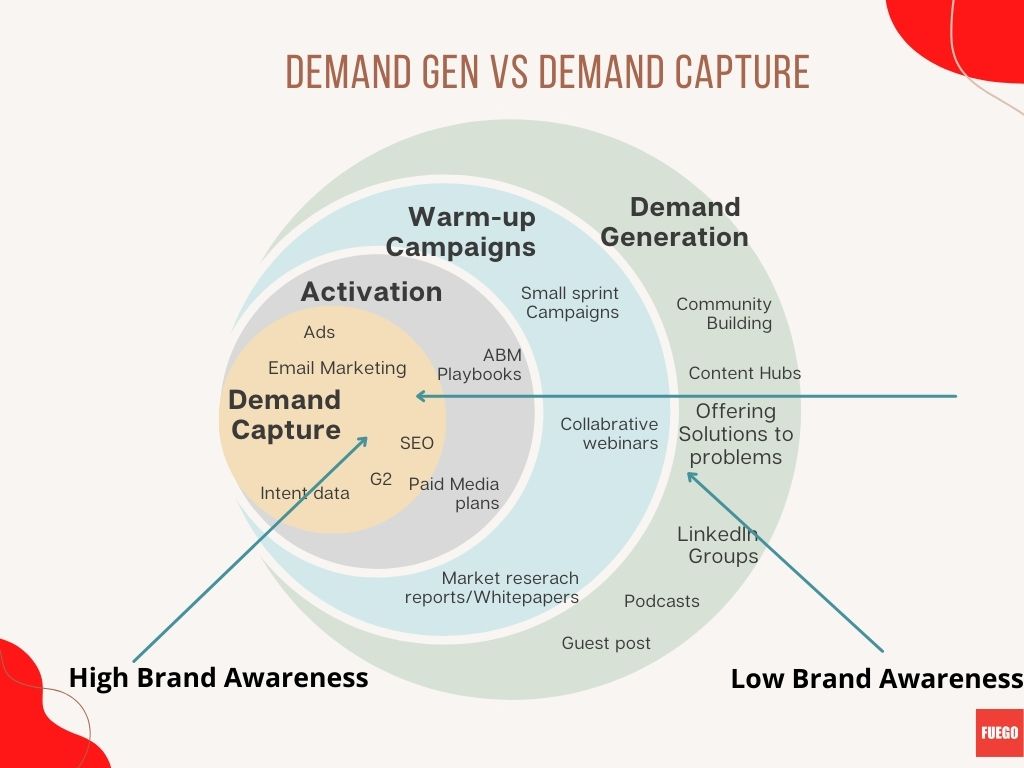 Chris walker mention's in his Demand Gen podcast that:
"Everybody does capture demand. but only a few do the Demand creation.
-Salesforce created demand by first making a CRM on Cloud.
-Hubspot captures the demand created by salesforce
-6Senese captured the demand created by Terminus"
Warmup:🔥📢
This is done right before you start your Demand capture. You can invite people to your podcast or get invited to podcasts. You can host fireside chat sessions or collaborative webinars with your partners or vendors.
Demand capture:🚀💯
Demand Capture usually comes as a bottom-of-the-funnel process to get your most engaged buyers to convert to customers. Here they already have awareness of your brand.
Some of the Demand capture channels include the following and are just limited to them. Some of these channels like email marketing and
content hubs can be used across both Demand Generation and Demand capture as well.
1.Email marketing,
2.Creating content hubs,
3. Nurturing campaigns,
4. Ads, SEO, G2,
5. Capterra,
6. Intent data,
7. Activation programs,
8. ABM playbooks,
9. Case study promotions and more.,
10. Search and affiliate marketing
11. People are aware of the brand here.
People are aware of the solutions to their problems and are evaluating products or services.
Activations:⚡️💥
No ABM play is completed without an Activation playbook. Create some activation playbooks for the contacts to convert to a meeting.
---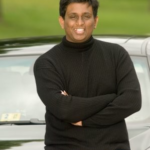 I help purpose driven brands grow online|Account Based Marketing|B2B Marketing|Marketing Automation.
All author posts