How Google Search Engine Works-Updated 2020
Google has a history of updating its algorithm several hundred times a year. If you learn the science behind Google's search engine algorithm, you can pick up some valuable SEO tips for your website.
SEO Analyst's and Digital strategist around the world have never been able to predict google search engine's algorithm updates and get to work on an SEO strategy for their website. We can only learn the way google search engine works. The majority of these updates are minor though some of them cannot be ignored, few of them are major like Panda, Penguin, Hummingbird  & Pigeon.
It requires some understanding of this amazing platform Google so you can strategically plan your SEO efforts without getting penalized from Google.
How Google Search Engine Works
Google search engine primarily works on three factors. Crawling, Indexing & Ranking. To start understanding how Google search engine works, let's start with the basic's first. What is Google's mission? "Google's mission is to organize the world's information and make it universally accessible and useful" It can be seen from their mission that Google organizes all information and makes it accessible to everyone who searches for it and makes sure, it give the most relevant information in the quickest time possible. Imagine if google is going to give you a search result with information which is not too relevant to your search query, then you will not be searching on Google again.
To start understanding how Google search engine works, let's start with the basic's first. What is Google's mission?
Now, it is the way Google searches, identifies and then displays the correct search result for you makes it unique. When you type a particular set of keywords, Google will crawl the internet, identify the closely matching content, rank them and then display them in your search results.
The way it delivers relevant results to your search quickly is what makes Google the #1 search engine in the world. Google search engine works in a way to give us only the most relevant and useful information.
There are more than 200 different ranking factors on which Google ranks a page. To know how this google search engine works you don't have to know all the 200 ranking factors. This article provides you the basics of how this massive search engine works.
Lets us now see what actually happens when google performs a search on a keyword.
Imagine until a decade ago, we had telephone directories to find phone numbers of people. The directory will have an Index to all the pages and then names will be arranged in alphabetical order. This makes it easy for us to quickly locate a telephone number.
Google also works in the same way but it has millions of websites and information to crawl and Index. It is a giant beast that crawls, indexes, ranks and then displays the most relevant content to the users.
Google has the following major process for their searches.
Crawl—>Index—>Rank—>Display
Let us look into each on these in detail
Crawl
Google uses web crawling software's to access websites and their pages available online. Googlebot is the most common software Google uses. These crawlers will go to websites, link by link, page by page, follow the hyperlinks and collect data about the website and its pages. This data is then sent back to Google servers.
The crawler also uses data from past crawls and sitemaps, that a website may have. This is the reason sitemaps play a huge role in your SEO efforts.
What are Sitemaps?
A Sitemap is an XML file that provides basic information for Google about your website and the pages. It is often important to update your sitemaps whenever you add new pages.
Website like
and
provide sitemap creation service and most of the time it is free and you input your URL and they will generate an XML sitemap for you to upload.
The web crawler looks at new pages created, dead or error pages and changes to your existing pages.
The data from the Google servers help the web crawlers to determine the sites to crawl, how often and the number of pages to fetch from each site.
Website owners have the right to choose their entire website or certain pages on their website to not be crawled by Google. this can be done by Robots.txt file. This file can provide details on what pages the site owner does not prefer to be crawled or provide instructions for Google bots on how to process their site.
Page Rank is another major factor for Google to determine your page much early on the crawl. We will discuss on page rank in detail following this.
Indexing
As mentioned a little while ago, Google will have to gather all the pages during its crawl and Index them much like a telephone directory.
Google processes the information from WebCrawler's and Index them based on the site title, tags, meta tags and description. Here Google determines the quality of your content also. The crawler makes use of sitemaps and checks with the data from the previous crawls
When a user inputs a keyword on Google search, Google bots crawl that page and then the algorithm goes over these Indexes to bring the most relevant results. The complex algorithms determine a ranking factor and place them on searches appropriately.
Google always returns the most appropriate content related to the searches and that is what make Google a huge search giant.
How to find if your pages are  Indexed by google.
The quick and easiest way to know if Google has indexed your page is to go to Google search bar and type
site:youdomain.com
You should not type www. Just type your URL, eg
site:mashable.com
Google returns all the number of pages it has indexed and you can also see the pages that are Indexed.
The following are some the ideal way to get your pages indexed.
1.Google Webmaster
On the Google webmaster tool, you have an option fetch as Google. This is located in the health section.
Type the URL in the text box and click fetch. This will fetch the page to see if it has been indexed. The status will update to successful. Click submit to Index. Individual URL's can be submitted or URL's containing links to all the content updated recently can be submitted. You can submit up to 500 URL a week.
2.XML Sitemap: Create an XML sitemap and submit to Google inside your webmaster account itself.
 Ranking & Display
Google looks at more than 200 factors to rank a page. I have just listed down few of the ranking factors here to work for your page.
On Domain Level: Google gives priority to rank websites which have the same keywords in the domain name as their target keyword. Moz, considered as one of the leading SEO software's in the world has domain authority as one of the major ranking factors in its tool.
The domain authority is determined based on several factors related to the domain, its URLS, links and root domains.
Page Level:
Keywords on the Title and the page
The keywords in the title and page play a major role on Google to rank your page. For example, if you are searching for "best digital SLR camera for beginners"
As you can see here, the first search result has the right keywords and the appropriate title, that closely matches what the user is looking for.
Content freshness, quality, and Length
Google always looks for content freshness and that is the reason, how frequently you update your blog, makes a lot of difference.
Some blogs like Mashable and Huffington post update their websites every day. You can update your pages or add more content to your website daily or weekly or monthly. Whatever you do, make sure you are consistent. When Google crawls your page first time it assigns a freshness score and eventually that score will decrease if you do not update your content frequently.
Quality of the content
Here the length of the content, the keywords used and the duplicated pages are all taken into account by Google.
The content has to be meaningful, detailed and relevant content. During the previous updates of Google especially before the panda release small size articles without much relevance would also rank higher on Google but now after the Panda update in 2014 only detailed content(sometimes, as much as 2000 words) get priority and it has to be relevant to your website.
The article has to analyze in depth about the subject you are talking about and give either a solution or information to the user. It has to give meaningful insights to a subject. This is the reason Infographics are now becoming very popular and a good ranking factor for Google to rank your page.
Kissmetrics increased their traffic from 0 to 350,000 in a month by only providing meaningful Infographics.
Quality Backlinks:
Quality backlinks is another major factor on the recent google update. Until a few years ago, there were sites which could provide back links to the user for as less as $5. With the recent Google algorithm updates, these do not work anymore. 10 bad quality backlink is not as good as one good quality backlink.
Moz bar helps you to determine if the Inbound links come from a domain that has good page rank and domain authority.
Google check for the authority of the domains these links originate from and the relevance to your business. Lots of websites have been penalized recently for having used paid links. These link providers give links to your website for a fee. These are not google favorites anymore. Google also check's for dead links, error pages, and broken links.
Social sharing
A good content always gets shared on social media platforms like Facebook, Twitter, Google +. In other words, a well-written content after a good research, that has detailed information is likely to get shared more often.
Buzzsumo is a tool to identify viral contents and trending topics. You can search for a particular keyword on Buzzsumo and see the most popular or viral content that has been shared a lot on social media platforms.
As you can see here, the keyword "Google algorithm updates" has some articles that have been shared so many times on social media platforms.
In short, the comments, the shares and Retweets you get for your article has a major effect on the way Google ranks your page.
Duplicate content
Duplicate content is another major factor Google now ranks your website or your page. The recent updates on Google double checks to make sure, your content is original and unique. The Google algorithm can crawl the internet and find the oldest copy of the original content and match it with the page rank and identify the creator of the original content. In that case, the page having duplicate content gets penalized by Google. There are certain guidelines provided by Google for Duplicate content(https://support.google.com/webmasters/answer/66359?hl=en).
SiteLiner is a tool that can be used to find out if your website has original content or to what extent is duplicate content present in your website.
 As you can see here, Moz has only around 4% duplicate content. This will help you determine if your site has a lot of duplicate content or not.
The other way around, you can also let google know about the duplicate content. In case your original content ranks less than the duplicate content, you can let google know about it through Scrapper report Tool.
https://docs.google.com/forms/d/1Pw1KVOVRyr4a7ezj_6SHghnX1Y6bp1SOVmy60QjkF0Y/viewform
Mobilegeddon: This is the most recent Google algorithm update, that requires your website to be mobile friendly. This is one of the biggest algorithm change Google has done recently and the websites which are not mobile friendly are going to be rank less. If your website is not mobile- friendly, then your SEO ranking gets affected.
Responsive design has now become mandatory with the recent google update.
You can take the mobile-friendly test from Google.
https://www.google.com/webmasters/tools/mobile-friendly/
You can go and type your URL and Google will crawl your page and tell you if the website is mobile friendly or not.
February 2016 update
The algorithm change Google has made on February 18th, 2016 is a huge shift from its normal display preferences on search results. Here is what you will notice.
All side ads are removed from the search results
A fourth advert appears in the center above the organic search results.
Product listing ads (Google Shopping) and some knowledge graph ads will still appear in the right column.
Although this change is only for the paid search updates, it will have some significant implications on the organic results too. This will push the organic search results even further down. Every extra ad placement will push the organic results down by one position.
It is premature to conclude the exact implications of these changes on to the organic search results now. We will have to wait for some time to see.
Nov 2020 Update
When Google introduced featured snippets in 2014, the organic listing also appeared along with the featured snippet in the first page results around the top 5 results.
Google rolled out a significant change in early 2020 on the featured snippets position that eliminated the featured snippets appearing again in the first page.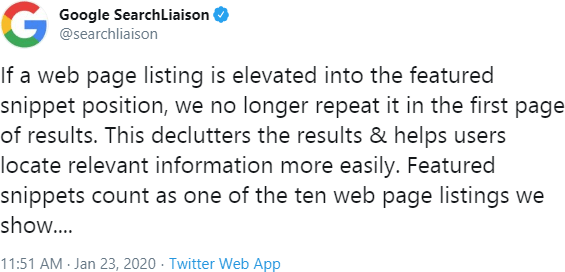 The featured snippet is now displayed at position one and among the ten search appearances in the first page. The repeated search appearance after the featured snippet is now replaced with featured snippet appearing only once at the beginning and still resulting in a total of 10 search results.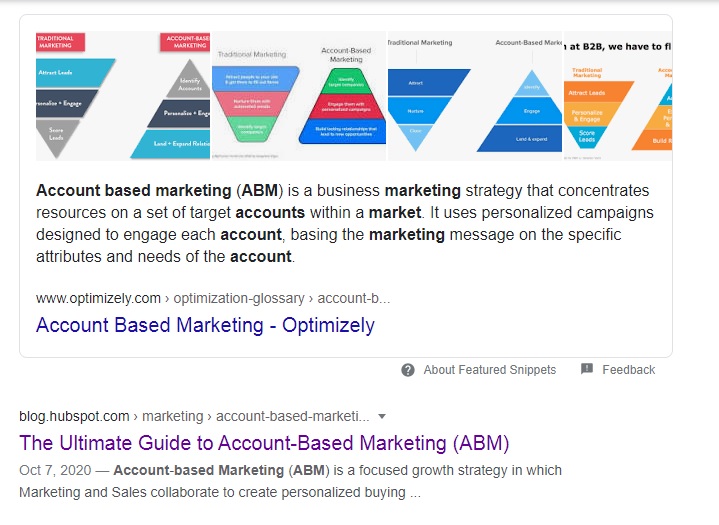 The images that appear for the featured snippets are also gaining significant importance for ranking.
SEO Advise: Optimize the images with right caption and Alt text for the featured snippet to rank easily.
The disruption's caused by the COVID-19 pandemic
Google's ranking fluctuations during the pandemic had noticeably significant search behavior and ranking changes. The changes were either due to the search traffic patterns by the world or Google trying to adapt to the changes.
Post pandemic we did not see any major Google algorithm changes except for few minor bug fixes and updates.
Let's wait to see 2021.
Conclusion:
I hope this article provides some basic insights on to how Google search engine works. These are not the only factors required for your pages to rank. Many other attributes also determine your page rank and authenticity. This article provides only the major factors on which the Google search engine works so you can get some effective SEO tips. Also, there are some do-not-do items for your website to not get penalized. The following are some of them.
1.Spammy Guest Blogging
2.Too many inappropriate inbound Links.
3.Buying Inbound links for a fee.
4.Keyword stuffing on to the content.
5.Relying on back-links than quality content.
Never try to manipulate how Google search engine works and try to stuff keywords. Instead, focus on delivering good informative and useful content to your readers. Always remember, your readers are real humans and not bots.
Bottom Line: Read Google's mission and make sure you are building organic content that is relevant, detailed and makes it more creative sometimes with Infographics. Use appropriate tools like MOZ or Deepcrawl to review your site's performance and keep a constant watch on your website through Google webmaster and analytics tools. This is the basis to learn how google search engine works and its algorithm but keep watching for updates from Google.
Photo by PhotoMIX Company from Pexels
---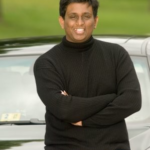 I help purpose driven brands grow online|Account Based Marketing|B2B Marketing|Marketing Automation.
All author posts